Welcome to Straight from the 'Beek! The Falcons are in New Orleans getting ready for a prime-time showdown against the Saints on Thanksgiving Day. In the meantime, you've got plenty of questions – so let's get right to them. Just remember that all opinions here are mine unless otherwise noted.
Jerry from Statesboro, GA
Hey, Beek. You're right, the season is not over. Everything rides on the Saints game. Every game after that is definitely winnable. I think we are going to shock the world. My question is will Deion Jones play against the Saints because he has always played well against them. The fans have been pretty hard on our corners this year and some of it has been well deserved. I really feel like they could get better if they stop bailing out on third-and-short and get their head around when the ball is in the air. The Saints are not going to let Julio Jones beat them so why don't we target Austin Hooper and Calvin Ridley more. Tevin Coleman can also hurt the Saints out of the backfield with screens which slows down the pass rush. My other question is do we or don't we blitz Drew Brees? I mean if you don't, he kills you. If you do, he may or may not hurt you. I say send heat up the middle. Your thoughts?
Matt: If the Falcons beat the Saints, it will shock the NFL world. No one on the outside expects the Falcons to come into the Superdome and knock off the red-hot Saints, winners of nine straight games. But let's get something straight here: the Saints can be beaten. They've lost once to the Buccaneers back in Week 1 and nearly lost to the Falcons before pulling it out in overtime. I expect the game to be a high-scoring affair and the Falcons to leave it all on the field. We don't know whether Deion Jones will play or not. As of right now, all we know is that he was limited in practice on Tuesday. Regarding Drew Brees, you have to do something to disrupt his throws, his timing, his pocket, his vision – but it's not an easy thing to do. Brees gets rid of the ball so quickly and oftentimes he knows right where he's going pre-snap. You've got to get him to blink – to hold that ball for a second longer, to move to a second or third receiver option, to disrupt his throwing lanes or make him move and throw on the run. The coverage has to be excellent and the pressure must come in a hurry (whether it's up the middle or from the edge). Again, that's not easy to do. But if you can pull that off several times and make him force a throw or a mistake, you've got to capitalize on it.
Joel from Columbus, GA
Myself and all Atlanta Falcons fans appreciate your work, Beek! The Falcons have fought SO hard to overcome a plethora of injuries this year! When the New Orleans Saints embarrass the Atlanta Falcons and all their fans this Thanksgiving Day by blowing us off the field, how do we regain faith and save face? When the New Orleans Saints win the Super Bowl in our very own Atlanta Mercedes-Benz Stadium, how can the Atlanta Falcons and fans ever live that down?
Matt: First, have some faith – in coach Dan Quinn and in some of the team leaders like Matt Ryan, Julio Jones and Grady Jarrett. You save face because you know (and expect) those guys are going to put together the best game plan they can, play as hard as they can and leave it all on the field. They'll give their all and, as a fan, that's all you can ask for. And you, the fans, cheer your tails off and support them. That's all you can do. You can't worry about the Saints and what they'll do. There's seven weeks left in this season and a lot can happen down the stretch – with other teams as well. But this one, Joel, is a biggie. If the Falcons pick up their seventh loss on the year – and many of the so-called experts are predicting they will – it's going to be a tough road to the postseason. Then again, this has been a strange year in the NFC and it would not surprise me one bit to see a 9-7 team or even an 8-8 team get that last wild-card berth. Thanks for the kind words – it's always appreciated. You guys rock.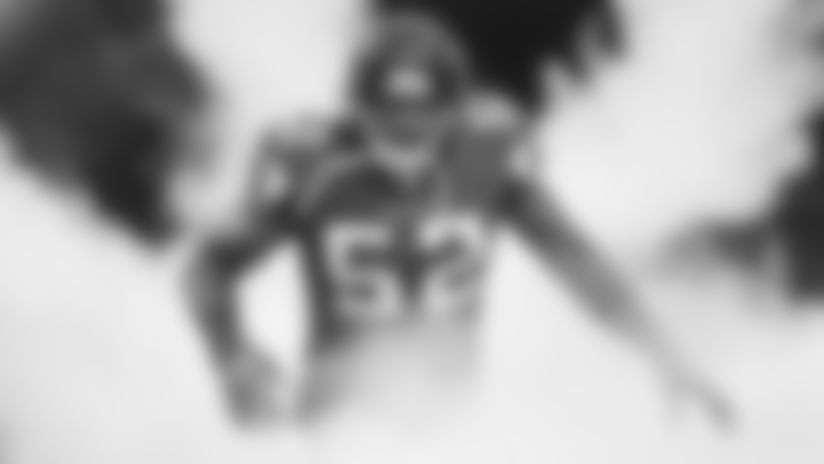 Wilbert from Decatur, GA
Why don't the Falcons ever draft players from the University of Georgia? The running backs are always tops. All players from the state Georgia make good players in the NFL. Are the Falcons biased against the players from the University of Georgia?
Matt: Hey, Wilbert. First, there is no bias towards Georgia and players and, second, they have drafted former Bulldogs in the past. So many things come into play during the draft process, Wilbert. The Falcons enter the draft seeking the best players available and they make their selections based on the list of players ranked on their draft board (and positions of need can and do factor into the decision). As players are picked by the other 31 teams, they obviously adjust their draft board. Sometimes players from Georgia would make a great fit, but they're picked before the Falcons are on the clock. Sometimes there are some excellent football players available from Georgia, but the Falcons might have more pressing needs at other positions or that players just isn't fit for various reasons. After some quick research, here's a list of Georgia players drafted by the Falcons:
2011: 3rd round, Akeem Dent, LB (pictured above)
2008: 6th round, Thomas Brown, RB
2007: 4th round, Martrez Milner, TE
2006: 7th round, D.J. Shockley, QB
1994: 4th round, Mitch Davis, LB
1989: 6th round, Troy Sadowski, TE
1981: 3rd round, Scott Woerner, DB
1977: 4th round, Allan Leavitt, K
1968: 8th round, Ray Jeffords, TE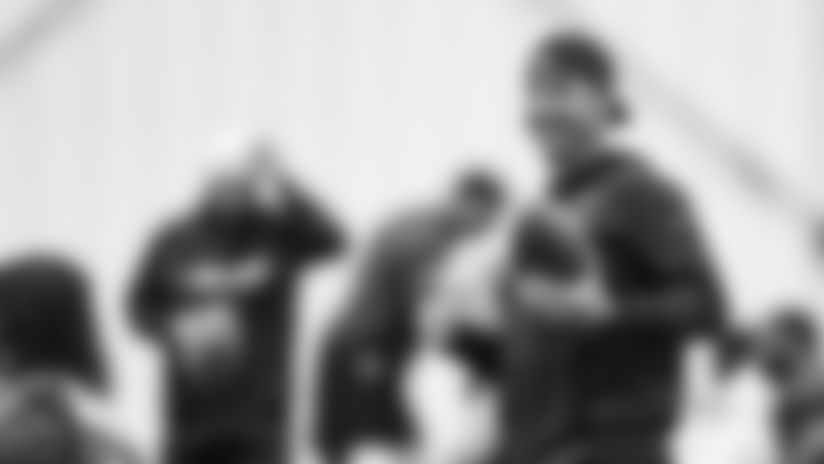 Keith from Elmhurst, IL
Hi, Matt. Do you think it's time to get a new OC because Steve Sarkisian can't expect to call college plays in the NFL and think it will work? So many games have come down to the wire and we can't seem to punch it in in the red zone.
Matt: Hi, Keith. As yourself this question: Is it a bad play call if the offense doesn't score or is it poor execution? If a player drops an open pass in the end zone, is it a bad play call? If the defensive players just flat-out beat the offensive players to the point of attack, is it a bad play call? If the quarterback makes a poor throw or the running back misses a block, is it a bad play call? So many times fans want to blame the play-caller when it so often comes down to execution. That all said, the Falcons offense has been terrific in 2018 – and much better in the red zone than it was in 2017, too. Are there still some issues? Absolutely. But I think it's safe to say that Steve Sarkisian has not been the issue this season. I think he's done a terrific job for the most part. You've got to give credit to the defense sometimes, too. As far as games coming down to the wire, yes – there have been six Falcons games decided on the final play this year. That's a lot. But there were many plays in those games that played a factor in the final outcome. Dropped balls, dropped interceptions, missed tackles … the list goes on. The Falcons must find a way to make plays and win those games, there's no question about it. Even they had won two of those games, they'd be sitting in a much different position right now at 6-4 versus 4-6. Thanks for the question.
Erik from Orlando, FL
Hi Beek, thanks for writing. These fans need some positive vibes. I will be watching the game Thursday night. Haven't seen a lot of games this year as I don't have the Ticket and live in Florida. It's a tough year, for sure. Just wondering how some of these systemic issues can get solved overnight or even in a season? (Poor tackling, no pass rush, offensive line issues ... For example, the offensive line is only as good as its weakest link many times.) The defense has taken a huge step backwards. My opinion is meaningless, of course, but I see a complete rebuilding and several more seasons of mediocrity. If we lose on Thursday, I think it should start right away. 9-7 is still possible but not probable?? Would love to make it to the Tampa game but money is tight ... thanks for listening.
Matt: The injuries have been tough for this team, no question about it. And what some of those players did was mask or make up for some other weaknesses. Without certain players in the lineup, some teams' deficiencies can become exposed. This was a top-10 unit a year ago, Erik. Losing Ricardo Allen, Keanu Neal and Deion Jones has been huge. Grady Jarrett missed time, as did Takk McKinley and Derrick Shelby. I'd tap the brakes on a complete rebuild. But they can certainly get better in certain areas this offseason. For now, as I said above, 10-6 or 9-7 might make it in this year. Who knows, 8-8 might do it, too. But if you squeak in as the sixth seed, can you beat teams like the Rams, Saints or even Bears? If not, it'll be an early exit. We'll find out a lot about the Falcons on Thanksgiving Day. Hopefully you get to see it – you should since it's on NBC. Thanks for writing in, Erik.