Welcome to Straight from the Beek! The NFL Draft is 17 days away (but, hey, who's counting?) and you've got lots of questions about the Falcons. So, let's get to them. Just remember that all opinions here are mine unless otherwise noted.
Charlie from Atlanta, GA
What are the Falcons plans as far as who are we going to pick in the first round (and what side of the ball)?
Matt: Het, Charlie. Based on what the Falcons have done so far, I'm thinking more and more that first pick is going to be a pick for a defender. Considering how many talented defensive tackle and edge rushers there are in this draft class, that's where I'd put my money if I were a betting man. Hope that helps. Thanks for the question. And should the Falcons do indeed go defense, here's who the fans would like to see drafted (below):
Curtis from Ellenwood, GA
Speaking of the drumming back topics, what is your take on Stanford running back Bryce Love?
Matt: You mean, "Baby Bolt"? That's the nickname Bryce Love earned as an 11-year-old after setting U.S. records in the 100- and 400-meters and then later winning the 200-meters at the U.S. Track and Field Junior Olympics. He backed up Christian McCaffrey and then exploded on the scene with a huge year in 2017 – rushing for 2,118 yards and scoring 19 touchdowns. Crazy numbers. But there was a steep drop off last season as Love only rushed for 739 yards and scored six touchdowns on the ground in 10 games. He tore his ACL in Stanford's season finale and is projected to go on Day 3. That sounds about right. I'll add this about Love – I'm rooting for him.
Dwight from Wilmington, DE
Hey Beek!!! Luv your column. Back in the 2011 draft the Atlanta Falcons had nine picks. We know they made that blockbuster deal to get Mr. Julio Jones. My question is, one A.J. Green was also part of that draft class. Were the Falcons trying to trade up to get A.J. Green? Or was the plan all along to get Julio? Thanks for your insight on all topics.
Matt: Great football name, Dwight. But since I don't publish last names, I'll just say that you probably catch a lot of people's attention in the Bay Area. To your question … the trade with the Browns in the 2011 NFL Draft was announced with Cleveland on the clock for the sixth pick. Then commissioner Roger Goodell announced the trade and the pick in the same sentence. It's pretty clear that the Falcons wanted to get Julio Jones – especially giving up as much as they did (which, by the way, was worth it). When teams make aggressive moves like that for a player, that's their guy. So, even though I wasn't in that draft room or privy to any of those conversations, I'm going to go out on a limb and say Julio Jones was their guy, Dwight.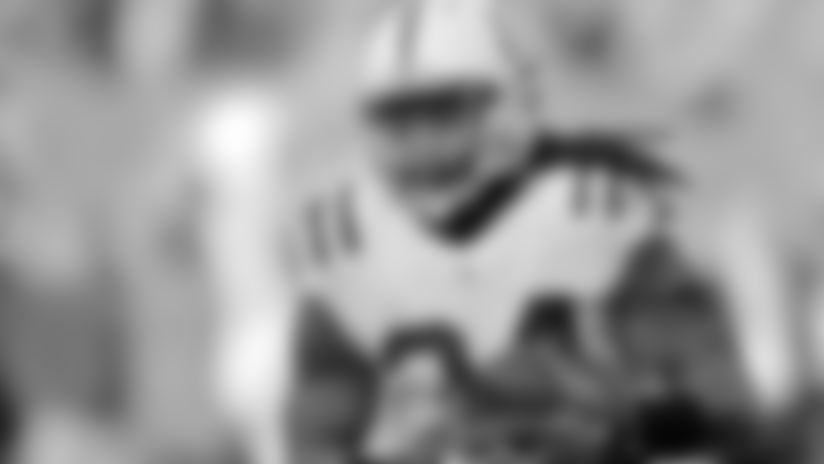 Chris from Stone Mountain, GA
Hey Beek. Any chance the Falcons offer RB Trent Richardson a show-me deal?
Matt: Good question. Last time I checked, Trent Richardson ended up in the now-defunct AAF. I don't know, Chris. The former first-round pick hasn't lived up to expectations since he entered the league in 2012. His best season was his first season with the Browns when he rushed for 950 yards and scored 11 touchdowns on the ground. It's been downhill from there for him. Could he help a team? Maybe. Will he get an invite to an NFL camp? Maybe. I'd be surprised if it was the Falcons, who prefer those explosive-type tailbacks. But, hey, you never know.
Alvin from Hampton, GA
Where is the Falcons draft party being held at? As a now retired 24-year veteran of the Air Force, I missed out on a lot of things like this. Thanks in advance!
Matt: Alvin, thanks for your service. There will be a draft party for season ticket members down at the stadium. Beyond that, I'm not sure what else is being planned around town, but I'm sure every sports bar around town where Falcons fans gather will have it on, too. And, more important, there can be a draft party wherever you want it to be! With the 14th overall pick, I'm sure Falcons fans will plenty to celebrate on April 25th.
Johnny from Marietta, GA
Sup Beek. It's my first time asking a question here, but I was just curious. Do you think the Falcons would ever trade Mohamed Sanu and Vic Beasley, to the Patriots for their 32nd overall pick? And maybe third-rounder?
Matt: I try not to get into the speculation game, Johnny. And that trade you are proposing makes just doesn't make sense to me. A starting defensive end (the Falcons currently have just three on the roster right now) and one of the best slot receivers in the league (who, by the way, is as sure-handed as they come)? The Falcons have nine draft picks; that's plenty of ammo to move up if they so choose.
Nathaniel from Robinsonville, MS
Hi beekeeper. Being a fan since 1978. You said the Falcon will win 10 games. I say the Falcons will win 12 games I am that confident in them.
Matt: Well, alrighty and cute play on words, Nathaniel. As I noted when I made that prediction, I do not like making win-total projections until after training camp – and we haven't hit the NFL Draft yet. So, I reserve the right to change my prediction. As far as your prediction goes, Nathaniel, I'm sure Falcons fans everywhere hope you're right. To go from seven wins to 12 is quite a turnaround. If they stay healthy and hit with some of the draft picks, anything is possible. Thanks for writing in. MAILBAG
Do you have a question about the Falcons that you want answered? Ask a question here and it could be posted on AtlantaFalcons.com.