Welcome to Straight from the 'Beek! Week 8 of the NFL season is underway, but the Falcons are among four teams with a bye – the Chargers, Titans and Cowboys are also off until next week. In the meantime, you've got plenty of questions. Just remember that all opinions here are mine unless otherwise noted.
Wayne from Morganton, GA
Hello, Beek. First time emailer, longtime reader, even longer fan. First, I just want to say to anyone who has given up on us, and yes that includes Deion, that any team can win any Sunday. Just look at the Bills' only win. Have some hope in your team or figure out why you're watching football to begin with. My question though, is about Steve Sarkisian. If Matt Ryan plays out of his mind for the rest of the year like he has, is there a strong chance we may lose another offensive coordinator to a head coaching vacancy? I'd love for him to stay for a couple of years, but I know it's a business and opportunities only come every so often.
Matt: Hey, Wayne. Thanks for taking the time to write in – glad to have you contributing and thanks for reading. First, you're right; any team in the NFL can win on any given Sunday, Monday or Thursday. There's too much talent and parity. Sometimes teams need a few bounces to go their way or some weird calls (i.e., a snap infraction – I still can't get over that one), but it can happen. Regarding your question, it would not surprise me one bit to see Steve Sarkisian (pictured above) considered for some openings during the offseason – in the NFL and at the collegiate level, especially if there some power five conference jobs become available. If he (and the Falcons offense) keeps this up, why wouldn't he be considered? Sarkisian has already been a head coach at Washington and USC and an assistant at Alabama. And in the NFL, he's been an assistant coach with the Raiders and Falcons. He's young, articulate, engaging, and smart – and he's a darn good coach. He's had some ups and downs in his career, but more importantly, he has the Falcons offense performing at a very high level right now. Now, just because he might be offered a chance to interview somewhere doesn't mean he will. Again, this is all pure speculation – there's more than half a season to go here and a lot of work to be done for these Falcons. The focus is on this season and winning games. Remember, if you're winning in the NFL, chances are your coaches – and assistant coaches – are going to be up for jobs. People want to tap into your success. That's how it works, and thanks for the question.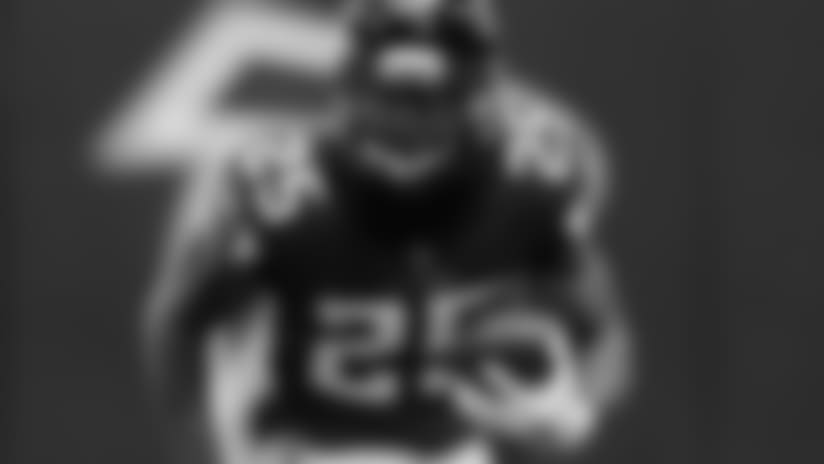 Eric from Tallahassee, FL
All this talk about Devonta Freeman and Tevin Coleman ... When is someone going to look at the positive? Ito Smith is a monster! Maybe not stat- or size-wise, but look how he has stepped up, dominated, and came in off the bench with fire! The Falcons have depth ... in all positions and that has been our biggest strength, even though our defense is struggling, look at our offense step up! Falcons are on a good two-game win momentum into the bye and Washington better look out because we're coming in hot! Matt Ryan has potential to be the 2016 MVP Matt Ryan regardless of our record. Falcons fans need to rise up and look for a playoff push, I see it coming.
Matt: When you talk about the contributions that this 2018 Falcons rookie class has made thus far, Ito Smith (pictured above) must absolutely be in the conversation, Eric. Totally agree that he's been a nice addition to the offense, especially with Devonta Freeman missing some time with injuries. Smith doesn't have particularly gaudy stats, but they're solid. He has 51 total touches (rushing and receiving) for 213 yards from scrimmage – that's 4.2 yards per touch – and three touchdowns through the first seven games. He's proving to be a nice all-around player with some shifty moves. I think we can all use some more Ito Smith in our lives – let's hope the Falcons continue to employ him more.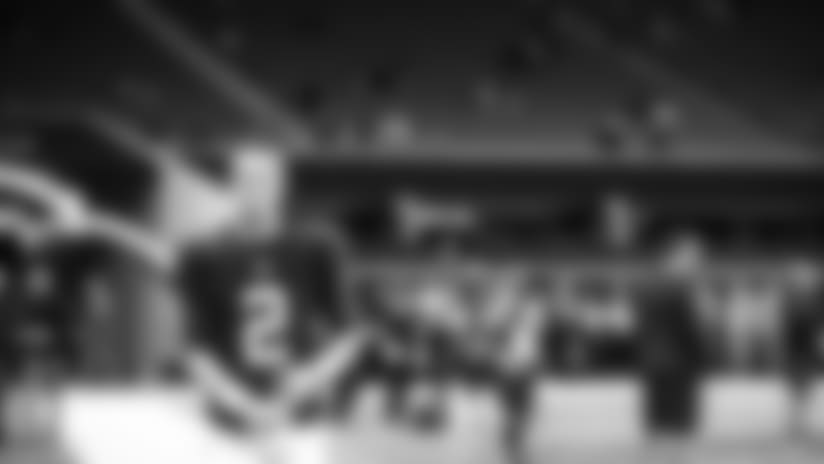 Nick from South Jordan, UT
Hey Beek!!!! I know the Falcons are having a great turnaround going on. I have noticed that all of the attention has been on the offense, and how much better it has been playing since Week 1. While all of that has been an amazing relief and will definitely help with a postseason push, I am still concerned about the defense. Our defense has been absolutely awful. It's one of the worst in the league, and while there has been improvement, it has not been nearly enough. We are constantly getting torn apart through the air by opposing offenses, and our wins have been close calls, as we tend to allow our opponents to score almost as many points as our high-powered offense. I have been a Falcons fan for an extremely long time. I am a diehard. I hope they do well every year. What are the Falcons doing to improve the defense?! Not to bring back bad memories of the Matt Ryan era (he is my personal hero), but we always have fantastic offenses that get us to the postseason, where we ultimately fail because we don't have a good defense to go with the offense. A good example of this would be what happened in Super Bowl 51 (other than the fact that the Patriots seem to be gods at times). So, what is the plan to fix this? It is vital to our success in the postseason.
Matt: Hey, Nick. Well, I don't have a nice, concise answer for you on this one – and that's because this defense, which entered the 2018 season as one of this team's strengths, is now a work in progress due to long-term injuries to players who played key roles. If you had to name a handful of players this defense could not afford to lose, the names of Deion Jones, Grady Jarrett, Keanu Neal, Ricardo Allen and Takk McKinely would most likely show up on most people's lists. Unfortunately for the Falcons, all of those players have missed games this season and we haven't even hit the halfway mark. Neal and Allen are done for the year, as we all know. What has happened in the meantime is other players have had to step up – whether it means playing more reps, taking on more responsibilities, playing different positions, learning on the fly or all of the above. All of the changes and adjustments have affected communication at times as well as continuity. As a result, there are breakdowns at times – and in the NFL, teams (opposing offenses) tend to pounce when that occurs. Could the Falcons go out and make a trade? If they found a willing trade partner and that player was a fit, sure. But there are ramifications to consider – salary cap, corresponding roster moves, draft picks (possibly) and the ability to re-sign their own players. It's so easy to sit back and say go trade for this guy or that guy. Is he even available? Is the asking price even fair? Is he even a long-term fit? The Falcons really like the players they have right now – and they'll continue to coach them up as they learn on the fly, work on communication and settle into their respective roles. They'll also be getting some players back, including Deion Jones, who might be the best player on that unit. That's huge. In the meantime, they have to focus on coming out of Washington with a win. That's all that really matters right now.
JC from Vidalia, GA
Hey, Beek. Like most people, I think the Falcons should have gotten off to a better start than 1-4. However, we have had people rise to the occasion. Matt Ryan has been phenomenal, the receivers are all-world, we still have two good running backs, and the defense has shown signs of life. As such, it is alarming that we win two straight games, and EVERYONE NOW WRITES US OFF. If we take care of the home games and win a couple of games on the road, we will be in the playoffs, and I think we would be nearly as dangerous as 2016. On paper, our defense was nothing to brag about then, and I would hate to have to play the Falcons in the playoffs this year. With all the injuries, I think it would be quite an accomplishment to get there, and I think we will. I think our offense can outscore the weaknesses that have been caused by the injuries on defense, and I do think the defense will improve enough to get it done. Take care, keep up the good work. Go Falcons!
Matt: Hey, JC. I wouldn't worry about being written off because as long as the Falcons keep winning, it'll be a moot point. All that really matters, as I just noted above, is beating Washington on Nov. 4. The Falcons, in my opinion, are still in that must-win territory. Winning games against division foes and NFC opponents are critical at this point – and they'll matter when it comes to tie-breakers at the end of the season.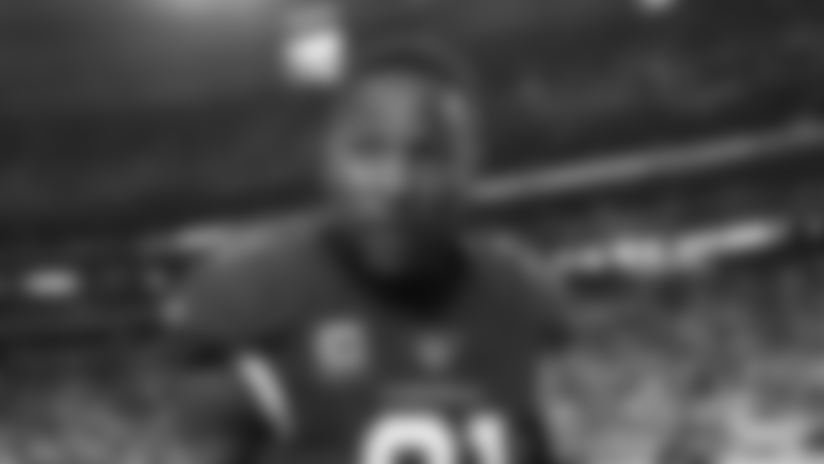 Lewis from Mililani, HI
Aloha. Wouldn't it make sense to trade for Patrick Peterson if we could get him? Robert Alford just ain't cutting it and we could use the help on D. Thanks.
Matt: There's no question that Patrick Peterson is a phenomenal player and, yes, he was rumored to be one of the big-name players who could be traded before the Oct. 30 deadline. But he is under contract with the Cardinals and has recently come out said that he's been frustrated but committed to helping things turn around out there (see his tweet below). Besides, there's so much more to consider when making trades (see my comments above).
Chris from Helena, GA
Hello, Beek. Why can't you talk about the elephant in the room? Matt Ryan, yes, he has cool stats and supposedly he is the ICE MAN. I have to admit, I like him a lot as well but still. He rarely comes up large in big games or at least for 60 minutes in a game. I know it's not his fault but he's the QB. As such, him and the head coach need to get on the same page. Quit quibbling and make the team better during the year if you lose personnel or need more personnel, get some more, RIGHT. You can't stand pat like we do too often. Make the team better get more personnel that a team has needs for, what's hard to understand. The game has changed and back in the day there were certain players who had it, like Terry Bradshaw, Bob Griese, Joe Montana and Steve Young. When is Matt Ryan going to be taken to task and everyone stop making excuses for him. He gets a pass too often and needs to have more after game news Q&A's. I know what part of the issue, it's free agency, too many people get moved and break up the dynamics of a team. Also, collective bargaining is not team friendly; it is certain players only friendly, i.e., who always gets the biggest contracts and most of the money; yep the quarterbacks, defensive and offensive lineman and the wide receivers. Yet the running backs used to be highly sought after in my day, it all changed when the X's and O's got pass happy and not winning happy. Anyway, something's must change in collective bargaining if team owners want to have teams that compete year and year out. If New England can why can't Atlanta compete for Super Bowls on an annual basis? Yeah, they are doing Doctoral Football while the rest of teams are working with Masters Degrees.
Matt: Hi, Chris. I'm not sure if your beef is with Matt Ryan (which I don't understand), free agency, the collective bargaining agreement, the front office or all of the above. I'll say this much about Ryan – he should be in the MVP conversation. He's playing that well and keeping this team in the race, in my opinion. Injuries had decimated this team this year, yet everything is still on the table and in front of them. The Falcons were the only NFC team to return to the playoffs last season, don't forget, so the front office must be doing something right. The team that narrowly beat them in the playoffs won the Super Bowl – and has the same record as Atlanta right now. The game has certainly changed since the 1970's and 1980's, but that's not a bad thing.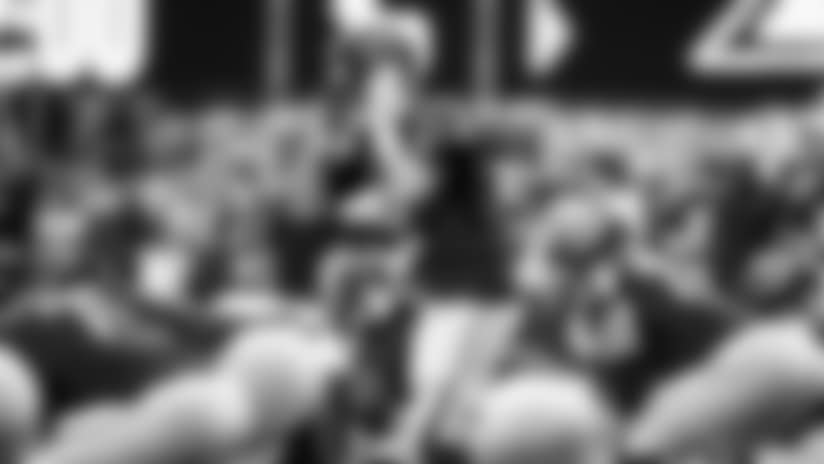 Jerry from Statesboro, GA
Hey, Beek. I'm shocked that nobody has mentioned anything about Matt Ryan dropping the F-bomb on TV again. If my memory serves me correctly I believe it happened when Austin Hooper was flagged for a false start. When the ref blew the whistle, stopping the play. (Fourth quarter, 3:15 on the clock) Matt Ryan yelled, "What are we doing?" "Come on Hoop!" followed by "f#%?!" I think it's ironic that every time he drops the F-bomb we win. I also think it's good for ratings. lol. Just kidding. My question is about the trade deadline and 2019 draft. Is our recently signed offensive linemen going to be enough or are we going to make a trade for a solid offensive lineman. (No insult to who we have, just insurance) My next question is who is the best offensive linemen in next year's draft?
Matt: Ha! I was in the pressbox and didn't hear that Jerry, but I do remember the Tampa Bay game last season. I think the Falcons will continue to work with what they have and also keep an eye on what else is out there (i.e., on other teams' practice squads), but I don't anticipate them making a major trade right now. With Brandon Fusco being placed on the injured reserve list Wednesday, the Falcons signed offensive linemen Austin Pasztor and Rees Odhiambo. Pasztor played in seven games with the Falcons in 2017, and he also spent three years in Jacksonville and two years in Cleveland prior to arriving in Atlanta. Odhiambo was selected in the third round of the 2016 NFL Draft by the Seattle Seahawks and played in 15 games for the Seahawks, making seven starts in 2017. Most recently, Odhiambo was a member of the Indianapolis Colts' practice squad. Fusco is the sixth Falcons starter to go on IR this season, and he is the second offensive guard to suffer a season-ending injury after Andy Levitre's season came to an end in Week 2. I'm sure they'll address the position in the offseason, including the draft. I haven't done a ton of research on this offensive line class coming out, Jerry, but it isn't considered to be the strongest. Maybe that'll change by season's end. For what it's worth, here are PFF's top five prospects heading into the season below: