Welcome to Straight from the 'Beek! We're a day away from the Falcons' big showdown in Philly against the Eagles – and you've got plenty of questions. So, let's get to them. Just remember, all opinions here are mine unless otherwise noted.
Matt from Greenville, WI
Beek, first I want to thank you for the time and effort you put in to answering all the questions that come your way. If you think about it, your kinda like a bartender, you get to hear the good, the bad and the-over-the-top questions and concerns about the Falcons – and you always seem to make sense. I know we have a big goose egg to show for preseason, but as you said it before, preseason is just that. It's for seeing what we have and not showing what we can do. With that said, do you think we will start off with a bang and try to make a statement from the get-go against the Eagles?
Matt: Beek the bartender. Haha! I think if things don't work out here or as a journalist, you may have given me some direction, Matt. Seriously, I totally get your analogy – and appreciate it! Fans are passionate and full of emotions – I try to cut through it and give you all something to think about. I've said it from Day 1, this space is for you, the fans. You're right about the preseason mark – don't sweat it. The only thing the Falcons care about Thursday night is coming away with a win. It doesn't matter how they start – with a bang or not – as long as they finish with a win. Road wins are tough to come by in the NFL, especially against the defending Super Bowl champions in their first game at home in front of their fans as defending champs. There will be a lot of pride and emotion out there. But when the ball is kicked off, it'll be football. And the best way to quiet a home crowd is to score points. Let's see what happens. Should be fun to watch!
Roy from Lincolnton, GA
Good morning, Beek. I am a constant reader of your column and I am a huge fan. This is my first time posting. Our preseason was a bit rocky, but I tend to not worry about preseason as it for trimming the fat, correct me if I am wrong. My question is, Thursday night is our first game against the team that put us out last year; what are the areas we are going to need to be top strength in? Also, what do you think the weakest part of the Eagles may be? Lastly, I didn't know Jerry from Statesboro was the president of this outfit. I don't remember seeing a thread on voting for officers. Maybe we could explore having a Straight from the Beek election in the future!
Matt: Haha! Love it, Roy. I'll give you this much regarding the Falcons' four preseason games – it wasn't pretty at times, especially that fourth game against the Dolphins. But, like you also noted, it's preseason football – and glad to see you get it and understand that it's about evaluating the younger and unproven players. It's about building the 53-man roster, nothing more. Regarding the Eagles, I think the Falcons will look to exploit the back end of Philly's defense and also take advantage of some mismatches there. Regardless, Atlanta will need to get its running game going – and this time around (compared to the last meeting in January) the Falcons will have a completely healthy Devonta Freeman at their disposal. And as far as Jerry being the president of the Beekers, there was no election or vote that I'm aware of, Roy. In Jerry's defense, he writes in almost daily and he loves to drop that self-proclaimed title whenever he can. Jerry might be the most talked about reader we have here in SFTB – so he's winning the public opinion race! Seriously, thanks for the question – and really appreciate your support here, Roy!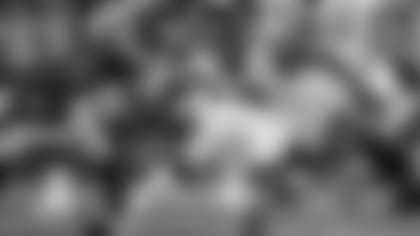 Tony from Duluth, GA
Hey, Beek! I'm so excited for the season to begin. I've been a Falcons fan my whole life and I don't think I've ever been this excited about them heading into a season. You know what else I'm excited for? To finally see Julio Jones, Devonta Freeman and Deion Jones on the field. Do you think the lack of preseason playing time will affect them in any way? And how do you think they'll do in Philadelphia? The last time we were there, two of those three didn't have their greatest days as Falcons to put it nicely. Thanks for all you do, Beek!
Matt: Hey, Tony. Put away the panic button. If it helps any of you readers out there who are concerned about the regular starters who didn't play during the preseason, keep this in mind: they're out here in Flowery Branch busting their tails at every single practice. Don't worry about the less reps in meaningless preseason games. And lastly, these guys – Deion Jones, Devonta Freeman and Julio Jones – are veterans; they've done this before. All three know what they're doing. They're healthy and they'll be fine. Thanks for the question!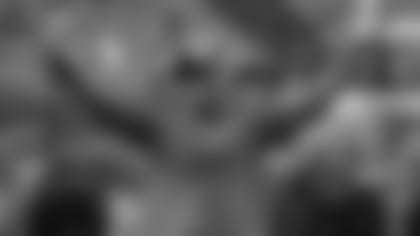 Clint from Evans, GA
Beek! The season is finally here!!!! Can't wait for Thursday night. Beek, my worries are on defense. The DC seems like he is calling the wrong schemes in his defensive coverages. It didn't seem to matter whether it was the first string or the rookies, the results where the same. Do you see the same thing, or do I have the pre-game jitters?
Matt: Clint, my inbox has been flooded with Falcons who, like you, are super excited but nervous for different reasons. To steal a line from Aaron Rodgers, everyone needs to R-E-L-A-X a bit. I totally get the anxiety, the excitement and some of the concerns over an 0-4 preseason. Here's some required reading for you. Here's why the preseason is meaningless (yet still important) and when you're done with that, here's why you shouldn't believe the hype. Hope that helps. And trust me on this: Defensive coordinator Marquand Manuel knows what he's doing. I also think he's going to be a hot commodity by season's end.
Carl from Florence, SC
Beek! You mentioned the other day something about a podcast. I haven't seen anything about it and I couldn't find anything either. Do you have any info on it? Pumped for the Falcons season and can't wait to see them beat the Eagles! Rise Up!
Matt: Hey, Carl! Yes, Brian from Clarkston, Ga., somehow found out about Falcons Audible – and I'm still wondering how he did it! It's been kept under wraps here in Flowery Branch. But to answer your question – yes, I just announced it this morning on Twitter (see below for all the details)! It's called Falcons Audible, and you can find it here on iTunes – please go check it out and give it a five-star rating! The introduction with me, D.J. Shockley and Dave Archer is up now (it's a video podcast, so you can watch or listen to it) and the first episode will air Monday following the Eagles game. Hope all you Beekers check it out! It'll be a must-listen for the readers here. I'm planning on working your questions into the podcast and we'll also have a call-in line where you can ask your questions that way, too. Should be a lot of fun!
Jimbo from Augusta, GA
Hey Beek, as the rest of Falcons Nation, love this reading daily. What color jerseys will the Brotherhood be wearing tomorrow? Secondly, I know you said, and I agree, the defense must prove themselves. But hear is a name they may have already earned, Dirty DQ Boyz. It's almost time like Samuel L. Jackson says, "RISE UP, ATLANTA."
Matt: Thanks, Jimbo! Appreciate you guys. I'm almost certain the Falcons will be wearing all-white uniforms when they take the field in Philadelphia on Thursday night. And, yes, defensive nicknames come with winning on the field – and shutting opposing offenses down in the process. Interesting suggestion. Let's see how this thing shakes out in 2018. Thanks for reading!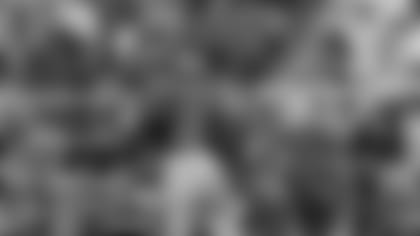 Chris from Fresno, CA
Will we be wearing our white or red jerseys? I know we wear white on away games, but we always lose to the Eagles when wearing white. The Eagles will be wearing green, so it'd be nice if we wore red and represented our true color. If not, then we might as well go to our throwback black jerseys!
Matt: I'm with you, Chris. Would love to see the all-red jerseys – throwback style, though, complete with the block numbers and red helmets (the picture above was taken from the Falcons' 27-24 win over the Eagles in 1988) . But, as I noted above, I'm pretty certain they'll be wearing all-white uniforms. Look at it this way: It's an opportunity to knock off the Eagles while wearing white and end that skid.
Jason from Myrtle Beach, SC
Hello, Beek. When people suggest fan chants, I feel like we already have one with Lil' John's "Turn Down for What." Whenever I hear that song I think of Falcons football and the ATL. I grew up in ATL and that song brings me right to a third-and-long Julio moment!
Matt: Hey, Jason. I was beginning to wonder if anyone was going to chime in with some suggestions for the in-game chants, traditions, et al. (See the question here from Sarah from Atlanta.) And that's a good point. Thoughts, Beekers?
Blayne from Dallas, TX
In-game chant suggestion: "Get (expletive) set!"
Matt: Haha! I remember that Matt Ryan line against the Bucs well, Blayne. I don't think that one would be good for the kids, but I love the spirit of it. Thanks for writing in!