Welcome to Straight from the Beek! The NFL Draft is just a couple of days away and you've got plenty of questions about the first pick, roster moves free agency and more – so, let's get right to them. Just remember that all opinions here are mine unless otherwise noted.
Charles from Atlanta, GA
Matt! This draft seems very critical to the Falcons' future. Looking at their free agency moves and the signing by Grady Jarrett, I'd say that the Falcons' outlook changes somewhat (now that means what we think, not what Dimitroff has planned all along!). I believe that they will target an OL first, then CB, maybe moving around to get Greedy/Murphy/Baker or even Johnson. There is little chance of getting the top edge guys and there is a large group behind them, chances are one may be available later. You have mocked an OL before, what are your thoughts on the possible CB selections? BTW, good mix of reader questions, shows what fans think about our needs!
Matt: Thanks, Charles. As far as the defensive tackles go, I think there are two who will go in the top-10 picks – Quinnen Williams and Ed Oliver. The next one off the board will be Christian Wilkins, and I think he could be there at 14. I think defensive ends Nick Bosa and Josh Allen will go in the first five picks. Rashan Gary, Montez Sweat, Clelin Ferrell and Brian Burns could all go in the first 15 picks, too. I think one or two of those guys will be there at 14. I don't see any of the cornerbacks going in the top 10 this year, to be honest. I do think up to four will go in the first round though. And as far as the linemen go, I think there are four who will go in the top half of the first round – Jawaan Taylor, Jonah Williams, Cody Ford and Andre Dillard. I think one or two could be there at 14, too. Hope that helps.
Denzel from Barnesville, GA
Do you think the Falcons should draft Montez Sweat at 14 and Jeffrey Simmons at 45?
Matt: If they were both still on the board when they pick in the first and second rounds, I would. However, I don't think Simmons will be on the board that long, Denzel. Even though Simmons is coming back from a torn ACL and may not contribute much this season, he's a top-10 talent when healthy. Whichever team ends up picking him is going to get one heck of football player. I do love Montez Sweat – he's a Georgia native who posted double-digit sack totals the last two seasons at Mississippi State and has tons of upside. Yes, I've heard about the medical concerns, but keep in mind that he was not sent home from the combine (where he put up eye-popping numbers). I'm sure every team will do their due diligence on him (and I do not know what the Falcons think about him), but he's a terrific football player.
Jerry from Statesboro, GA
Hey Beek! I think we make a good signing with J.J. Wilcox. He can play either safety spot. With that being said, I'm a little concerned and confused as to the recent article on Thomas Dimitroff stating that he knew who he would be picking with the 14th pick. What concerns me is the fact that we pick 14th, so how can you know who you're going to pick? This only means one thing in my opinion, we will be picking a guy in the first round who would probably be available in the second round or a guy we could very easily get even if we move down in the draft. At first, I was sure we would pick an edge rusher, then I was positive we would pick a defensive tackle, now I know without a doubt, we are picking an offensive tackle. Can't say I like the pick, but we have to respect the decision. There is no Joe Thomas, Orlando Pace, or Tyron Smith in this year's draft, therefore I think it would be a mistake to pick an offensive tackle with the 14th pick. I'm hoping we pick a defensive tackle, end, or edge rusher with the first pick, then move up in the second round to take the best available offensive tackle, linebacker, or cornerback. Do you agree?
Matt: Hey, Jerry. If you look at everything the Falcons have done so far in free agency and look at the players they are trying to secure with long-terms deals, the moves are all deliberate and strategic. Remember, the Falcons look at free agency and the draft as one player acquisition process – carefully weighing who's available and the market while taking care of their own players. You shouldn't be concerned that the Falcons are "dialed in" on who they want to pick with that 14th overall pick. If you read further into the story, Thomas Dimitroff says that "you might not get exactly who you want. You hope to have two, three or four guys that you really do want. That's a big thing for me to be positive about. If you're only focused on one person and that doesn't work, that's a tough thing to be in the room, everyone can feel the energy." So, don't read into that as the Falcons only want one guy at 14. Dimitroff said he knows who he wants, and it's more than one guy – and that's a good thing because they have several needs to address heading into this draft.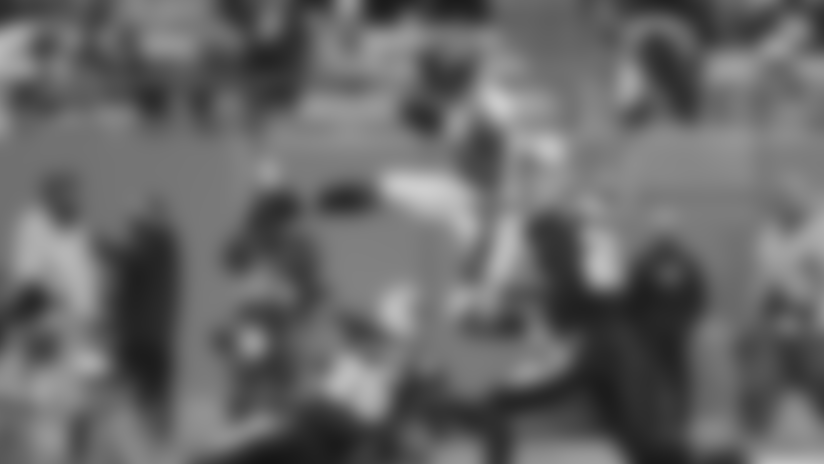 Peter from Jefferson, GA
Hey Beek. Can you possibly see Dirk Koetter adding some of his smash-mouth football back to the playbook? I see potential in Brian Hill thriving in this scheme.
James Carpenter: 6-5, 321
Jamon Brown: 6-4, 340
Adam Gettis: 6-3, 315
John Wetzel: 6-7, 315
The Falcons have clearly added some beef up front. If you recall, the Falcons struggled to consistently run the ball in 2018. Atlanta averaged 98.3 rushing yards per game, 27th in the league. Yes, Brian Hill – who is 6-foot-1 and weighs 219 pounds – came on at the end of the season, but he has yet to produce on a consistent basis. I'm a fan of Hill's and rooting for him. That said, it will be interesting to see if the Falcons will add some running backs in the draft and if they'll be bigger in size. At this point it would not surprise me at all. The one back they've signed in free agency – Kenjon Barner – is 5-foot-9 and 195 pounds – but he will be mostly counted on to make an impact on special teams, handling kick and punt return duties.
Reed from Brooks, GA
After listening to tons of experts and non-experts I think the Falcons will choose a DB in the first round. Why, you ask? Well we let Robert Alford go and it wouldn't surprise me if after this year, for cap purposes, we let Desmond Trufant go. After getting said DB, they'll get a DL and an OL with another DB to follow. After that, a RB or two! With all that said here's hoping we get at least one, if not two starters from the draft. Keep up the good work.
Matt: There's no question that the Falcons need to add more cornerbacks to the roster, Reed. Right now, the cornerbacks listed on the Falcons roster are as follows: Desmond Trufant, Isaiah Oliver, Blidi Wreh-Wilson, Ryan Neal and Taveze Calhoun. The top prospects in this class are Greedy Williams, Byron Murphy, Deandre Baker and Rock Ya-Sin. If the Falcons pick one at 14, I could see a scenario where all four of those guys is available. Do I think the Falcons will take a corner with their first pick? No, but I've been wrong before.
Dustin from Shoreline, WA
Hey Beek, first time question for you. I know the Seahawks are asking for a first (plus more picks) for Frank Clark. Any chance you see us shocking the world and giving up picks for Clark? I'm sure we'd have to give him a long-term deal to get it done, but he's young and fits or system for what Quinn wants for an edge rusher? What do you think?
Matt: The first thing that comes to mind is, why would the Seahawks part ways with a productive pass rusher? Those kinds of players are really difficult to find. Frank Clark is only 25 and has posted 35 sacks in four seasons with the Seahawks. Unless there's something wrong with him or some off-field issues, I think it's kind of a head-scratcher. I think the asking price is very high for Clark, who is set to become an unrestricted free agent after this season. Maybe the Seahawks are trying to get some value for him before that unfolds. They did, after all, just make Russell Wilson the highest-paid player in the league and you only have so much money under the cap to work with. I think it comes down to the asking price, Dustin. The Falcons have a number of needs and can't afford to give up too many picks. They're also trying to give Grady Jarrett and Julio Jones new deals, too. I don't see it happening. MAILBAG
Do you have a question about the Falcons that you want answered? Ask a question here and it could be posted on AtlantaFalcons.com.