Welcome to Straight from the Beek! I just peeked at my inbox and many of you have questions about free agency and the draft – as you should. So, let's get right to them. Just remember that all opinions here are mine unless otherwise noted.
Calvin from Augusta, GA
Hey what's up, MT? I got two questions. For the first, as a Dawg and Falcon fan, I can't help but to wonder why we don't take advantage of drafting the home-grown guys 72 miles up the road, why is that? And for the second, do you think there is a chance that we might draft Deandre Baker?
Matt: Did you know the Falcons have drafted nine players from the University of Georgia? Yep, it's true. However, as I was compiling the list of players I noticed that none were drafted higher than the third round for some reason, the most recent being linebacker Akeem Dent in 2011. Look, the draft is unpredictable. When the Falcons are on the clock, they're going to select the players who are highest on their board and/or the one who best addresses a need – and they're going to choose from the prospects who are available at the time. It's that simple. There's no bias. As far as Deandre Baker (pictured above) goes, he's definitely one of the better cornerbacks in this class. But I don't see the Falcons taking him at No. 14 overall. In my latest mock draft, I have Baker going to the Colts with the 26th pick. If he were to fall into the second round, which could happen, maybe. But the Falcons must address the offensive and defensive lines in free agency and the draft. Cornerback is also a need, in my opinion. So you never know. Oh, here's the list of Georgia players taken by the Falcons:
2011: 3rd round, Akeem Dent, LB
2008: 6th round, Thomas Brown, RB
2007: 4th round, Martrez Milner, TE
2006: 7th round, D.J. Shockley, QB
1994: 4th round, Mitch Davis, LB
1989: 6th round, Troy Sadowski, TE
1981: 3rd round, Scott Woerner, DB
1977: 4th round, Allan Leavitt, K
1968: 8th round, Ray Jeffords, TE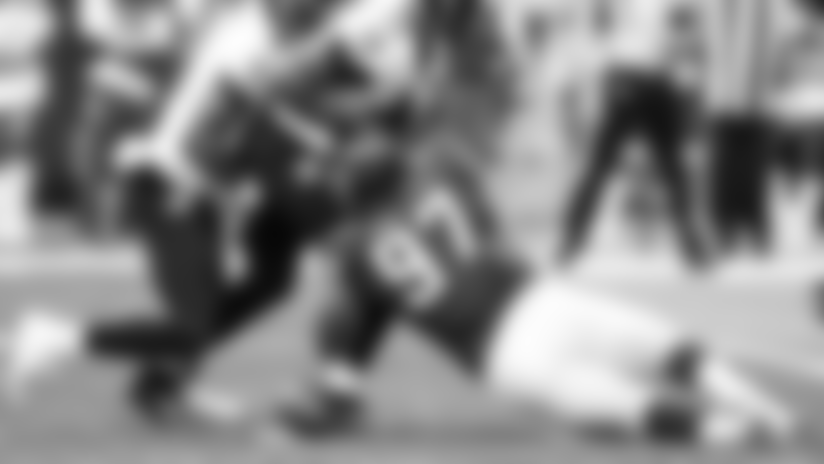 Harold from Jonesboro, GA
Wouldn't the Falcons have been wiser to not extend the franchise tag on our star DT Grady Jarrett and, instead, kept it in case negotiations with Julio Jones were to go bad? It seems they risk losing the best receiver in the NFL against keeping what may not be one of the top 10 defensive tackles in the league.
Matt: They're not going to lose Julio Jones, Harold. And by placing the non-exclusive franchise tag on Grady Jarrett, they ensure Jarrett won't hit the open market when free agency begins on March 13. Now, with the non-exclusive tag, can Jarrett negotiate with other teams since he doesn't have a long-term deal in place? Yes, but the Falcons can match any offer. If they choose not to match it, the Falcons will receive two first-round picks – one this year and one next year – as compensation. Two first-round picks, Harold. Back to Julio for a minute. The Falcons adjusted his salary prior to the 2018 season and agreed to revise his contract during this offseason. That, according to GM Thomas Dimitroff, is still going to happen. And Jones is under contract through 2020 – so there's no risk in losing him.
Travis from Newnan, GA
Do you know any key players that have been linked to the Falcons during the NFL combine? Also, if a good player slides to us that's not a position of need, do you think we will take the best player available or stick to the draft board?
Matt: The Falcons currently hold the 14th overall pick. That's a fairly high pick and there's no doubt some very good players will be available when the Falcons are officially on the clock. So, rest easy in that regard, Travis. As far as being linked to any specific players … the Falcons know that any number of players could fall to them at 14. The Falcons' biggest needs heading into free agency and the draft are along the offensive and defensive lines – and they interviewed all of those top prospects (and more). They have nine picks at the moment. Remember, the Falcons like to use both free agency and the draft in tandem when it comes to player acquisition. Could the Falcons draft a receiver at 14? Sure, but I highly doubt it. Not this year. Their needs in the trenches are too glaring right now. There are three really good offensive linemen who could drop to the Falcons at 14 – Jonah Williams, Cody Ford and Jawaan Taylor. If that happens, I could see them possibly taking one of them. If they're taken, which I predicted in my first mock draft, there are too many good defensive tackles and edge rushers in this class – and the Falcons will take one of them, I believe. I'd be stunned of they drafted a skill position player at 14. But, hey, I didn't see them picking Calvin Ridley last year, either.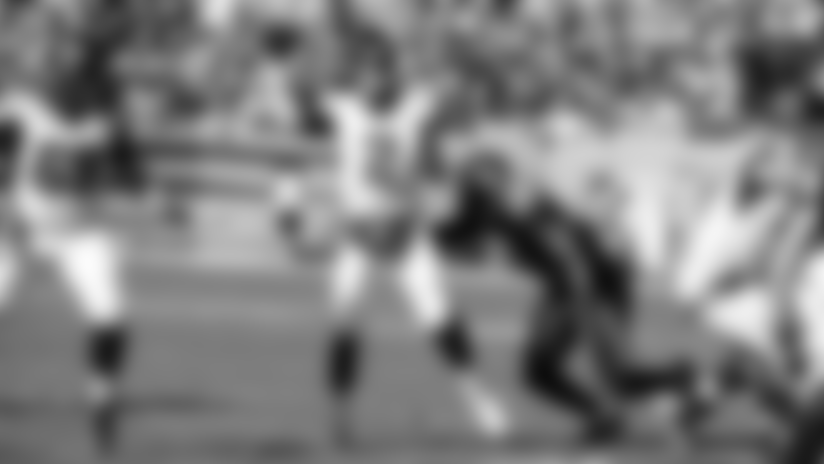 Rodney from Sugar Hill, GA
I've been a fan since the 1990s. When are you going to take care of the offensive line? You don't have to go to big schools to find talent. Please fix the line.
Matt: Rodney, the Falcons are lucky to have loyal fans like you. While I'm not privy to the Falcons draft board I can tell you this much: addressing the offensive line is a huge priority heading into free agency and the draft. It'll happen. How it happens remains to be seen. But Falcons coach Dan Quinn and GM Thomas Dimitroff have acknowledged repeatedly that they want to bolster both lines. Stay tuned and hang in there.
Tracy from Palmetto, GA
Long-long time Falcons fan here. My question is ... How long are the Falcons going to keep putting Matt Ryan and our running backs behind a terrible offensive line? We have great weapons that are underutilized because of opposing defenses being in the backfield as soon as the ball is snapped.
Matt: Tracy, check out the response above. Not only do the Falcons have tremendous skill-position players (as you noted), but they've invested a great deal of money into players like Julio Jones, Matt Ryan and Devonta Freeman. They know they have to protect those assets and, also, allow them to perform. Having a solid offensive line is key. Now, remember, there are some exceptional parts already in place – Alex Mack and Jake Matthews are both Pro Bowlers. Stay tuned and hang in there!