Welcome to Straight from the Beek! Rookie minicamp and OTAs are coming up and training camp is right around the corner – and you've got plenty of questions. So, let's get right to them. Just remember that all opinions here are mine unless otherwise noted.
Randy from Lyons, OH
Hey, Beek. Thanks for taking my question. What area do you think the Falcons will look to add during preseason when teams have to make tough roster decisions?
Matt: Hey, Randy. That's a good question. Since I have no idea of who exactly will become available, I'll just give you an educated guess. As long as the player fits the culture and scheme, I think they'd consider adding depth at a number of positions on defense, including cornerback, defensive end, linebacker and even safety. On offense, I could see them possibly adding depth at tackle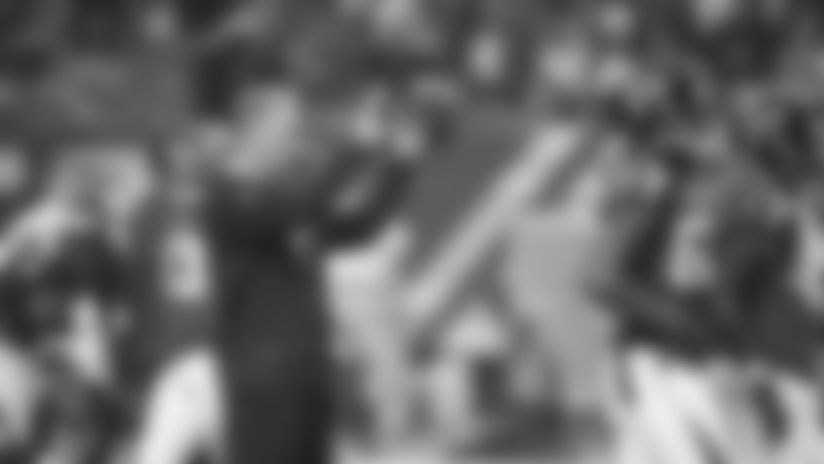 Chris from Mount Pleasant, SC
Hey, Beek. My question today has to do with how Dirk Koetter and Matt Ryan will work together this year. I believe that Matty (and Julio Jones, too) has the experience, football IQ, and proven selflessness to be able to offer valuable input into the game plans. At the very least, I would think he could pick a few plays he thinks would work after studying that week's defense. That said, do you know if that's part of the plan for the offense and, if so, how much will someone with Dirk's experience lean on a smart experienced QB like Matty?
Matt: As most know, this will be Dirk Koetter's second tour here in Atlanta. He was the offensive coordinator here, working with Matt Ryan, from 2012 to 2014. During his first three seasons with the Falcons, Koetter guided the offense to the NFC Championship Game with the seventh-best scoring offense. It's also worth noting that each year Koetter was in Atlanta, the Falcons had a top-10 passing attack (eighth in 2012, third in 2013 and third in 2014). So not only is there a history between Koetter and Ryan, they've enjoyed a fair amount of success together. It's also fair to conclude that each of them has grown since then as they've gained experience. I think there is a mutual respect between the two and, yes, I think they'll lean on each other in a healthy and productive way.
Jerry from Statesboro, GA
Hey Beek! I think it's safe to say that we're pretty stacked at guard, but what about offensive tackle? God forbid, but what if Jake Matthews goes down? Do you think we will address this during roster cuts at the end of camp? Also, there won't be a dominant defensive tackle, defensive end, edge rusher, or linebacker available after camp cuts, but will we sign some depth during that time? I know what you're going to say … Clayborn, Hageman, Means, Carter, etc. With the exception of Clayborn, all of those guys are inconsistent role players. I know it's hard to have solid 1's and 2's, but we don't just need a warm body. We need impact players. Don't get me wrong Beek, I think we are going to be fine as long as we are healthy (see 2018 season) lol. Personally, I think we were jinxed by all the "let's name our defense" crap before the season even started. Please don't let that be posted on your forum again.
Matt: I totally get what you're saying, Jerry. The one thing we've all got to be cognizant of is the salary cap here. The pie can only be cut so many different ways – and the Falcons are doing their best to secure their core players to long-term deals while, at the same time, protect those investments (there's a reason why the Falcons put so many resources into fortifying the line to ensure Matt Ryan stays upright). That all said, you've got three – three – former first-round picks at defensive end in Takk McKinley, Vic Beasley and Adrian Clayborn. With Dan Quinn calling the defense this year, I expect he'll get the most out of those guys. I also expect some wrinkles in the defense – and to see Damontae Kazee on the field more, too (see possibly more nickel packages). There are always positions on every team that are going to be thin in the salary cap era. It's a fact of life. Every team is an injury or two away from disaster. And when you lose two players at the same position – see the Falcons safeties and guards last year – you're in deep trouble. But that's football and every team has to deal with injuries. As far as putting kibosh on coming up with a nickname for the defense – you have my word. It will not happen again this year. I wasn't crazy about it, if you recall, because I believe teams have to earn nicknames on the field. Maybe we'll bubble this idea back up come Week 12 – if it's warranted.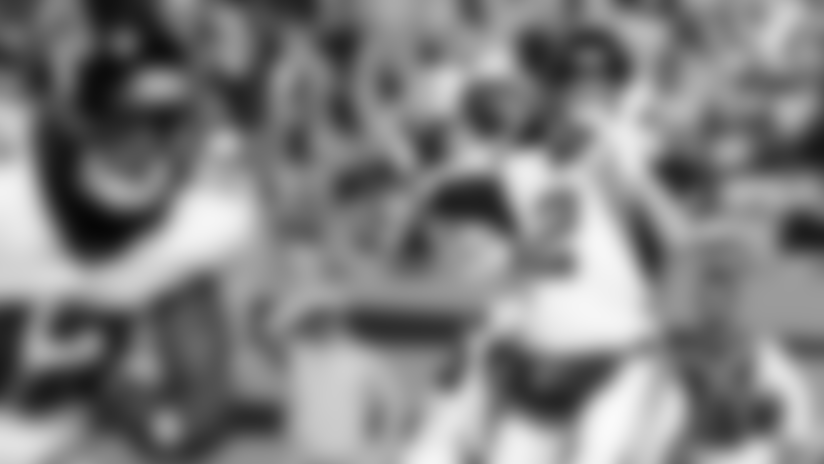 Reed from Brooks, GA
IMHO, here is why the Falcons will win at least 10 games (11 or 12 wouldn't surprise me). 1) Matt Ryan hasn't had this good of a line in a while! Despite having a somewhat rag-tag line last year, he had his second-best career year in passing yardage and TDs. With a vastly improved line he will set personal records for TDs and yardage. I predict a modest 5,200 yards and 38-40 TDs. The offense will be high scoring like it was not too awful long ago and the comfort level Matt has with Dirk Koetter. 2) Because of a strengthened line the running game will also be better. 3) Returning players from injury will be a huge boost. 4) Defense will be better, if for no other reason, because time of possession will improve, and they won't be playing as much. Look forward to your Q&A daily!
Matt: I couldn't help but think of Brooks Reed when I saw that you're from the town of Brooks, Ga. But I digress … Look, anything is possible at this point. I hate to make predictions before the team has even taken the field or before I've seen any of the Falcons' other opponents play yet. The Falcons won seven games last year and were decimated by injuries. If they can stay healthy and the offensive line is indeed improved, I can see them winning three more games, too. Nine or 11 wins would not surprise me, either. I'll say this much, if the running game is improved – and I expect it will be – I don't see Matt Ryan passing for more than 5,000 yards.
Daryl from Adairsville, GA
Not so much a question, but a statement. If these offensive improvements work out and I believe they will, you will probably see Matt Ryan throwing for over 80 percent and other ridiculous stats. After all, if he can throw 70 something percent while lying on his back, imagine what he'll do standing up! If that doesn't happen, 80-plus percent, then he's throwing long a lot more which is OK with me also. If you remember the Falcons around 1972 or so, they had the same problem ... lots of talent with poor linemen. I even wrote an op-ed in the Atlanta paper about it. The Falcons took my advice and drafted a lineman in the first round and made immediate improvement. Remember the Redskins getting all those old veteran "hogs"? They made a quick turnaround also. It's true that if you can run when you want, you dominate! I am thrilled the Falcons finally figured it out … again. Am I crazy?
Matt: You must be able to win up front, Daryl. And it's very easy to get exposed up front, too, because as Dan Quinn puts it, "there's nowhere to hide." I'm not ready to coronate this offensive line just yet – I want to see them come together, and that'll take some time to develop chemistry. I think some of your stats are ambitious, but let's wait and see how they play throughout the preseason. The good news is that they have five exhibition games because of the Hall of Fame game in Canton, so a lot of the rookies and new faces will see plenty of action. MAILBAG
Do you have a question about the Falcons that you want answered? Ask a question here and it could be posted on AtlantaFalcons.com.