Atlanta Falcons owner Arthur Blank is down in Miami this week and making the rounds of interviews with the national and local media, talking about the current state of his football team.
Blank also took time out to speak with AtlantaFalcons.com on Wednesday, and he talked about the Super Bowl, what success looks like for Dan Quinn and the Falcons in 2020, the NFL Draft, free agency, salary cap and even the new uniforms that will be unveiled in April.
Question: As you make your way through radio row and take in all of the pomp and circumstance that is the Super Bowl, how tough is it as the owner of the Atlanta Falcons not having your team in this game, knowing you have a talented roster?
Arthur Blank: I don't think it's hard at all. You certainly reflect on playing in this game a few years ago. It's great to be here and see the celebration of the NFL's 100th year, see the Super Bowl – you have two fantastic teams playing, I think. So we're looking forward to getting back this time of year. We definitely will make the changes, the evaluations, and the roster moves we need to make. And I think that with Coach Quinn, Thomas (Dimitroff), their leadership along with Rich McKay, I think we'll be in good shape. I'm excited about next year. Right now I'm enjoying being down here, enjoying the beautiful city of Miami and it should be a great game.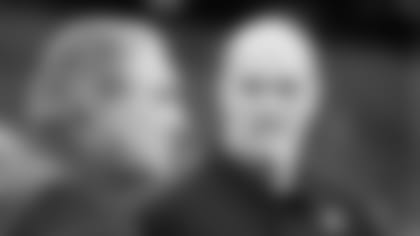 Q: You had said when we last spoke that 7-9 is not the bar for success. What is the bar for success in 2020 and what does success look like for Dan Quinn in 2020?
AB: Success for Dan and success for the team are really the same. I think we definitely want to be a super-competitive team. Not just competitive but think at a high level. We want to find ourselves back in the playoffs this coming year. That would be my aspirations; that's (Quinn's) as well. As well as Thomas, and hopefully being involved with Rich McKay – he could be another really smart person in the room providing them with some guidance, support, leadership and doing all of the things that Rich is capable of doing as well.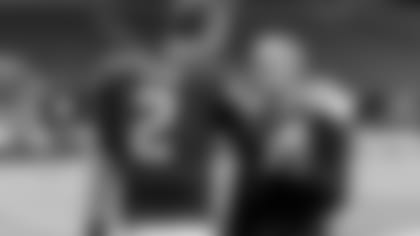 Q: Last year heading into the draft, you had said, "This is my 19th year as an owner and one of the things I've learned is that Matt (Ryan) plays much better vertically than horizontally." Just knowing where the offensive line is right now, how do you feel about that unit's progress – you invested highly in the draft last year – do you think that is still a critical focal point this offseason? Or is there another area on this team that the Falcons should and will address in the coming draft?
AB: First of all, the two picks we made last year – the right guard and the right tackle – the right tackle (Kaleb McGary), as the year went on, played better and better. You go through that rookie transition always, but he's got all of the talent, all of the strength, all of the smarts to play at a high level for most of the time. At guard, I think Chris (Lindstrom) is going to be a great player in the NFL for a long time. He missed most of the season, and when he was back he demonstrated both the toughness and the ability to make the right decisions on average. We have another hole I think at left guard. We have some talented young players there, but we'll probably look at that position I assume during the draft. We'll look at the defensive line, particularly the ability to rush and put pressure (on quarterbacks). We didn't do a great job of stopping the run last year, I think that's an area we can improve upon. So there are a number of areas that we can look at in this draft – corners are fairly deep, and so I think that's potentially another area I think we'll look at. There's just a variety of areas and needs that we have not only for starters, but we have three picks in the first two rounds which will put us in really good position. But beyond that, just to provide the depth that's so critical in the NFL. Unfortunately injuries become a factor and the ability to have somebody step up and play is really important.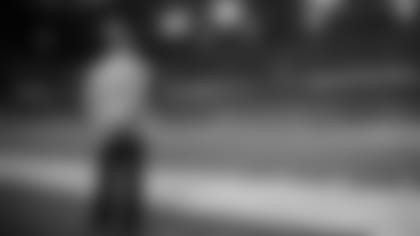 Q: Based on how things have gone the past two seasons, especially this past season, how important is it for the Falcons to get off to a quick start? Fans may push the proverbial panic button if they start off 0-1 or 0-2. How important is a quick start?
AB: I prefer a quick start to a slow start, but I think 0-1 and 0-2 doesn't dictate a season. It's a long season obviously. This year while we ended up with a horrific start at 1-7, we ended up with a great second half of the season at 6-2, improved in a variety of ways. Defense went from No. 31 to No. 8 in the league. Having said that, my preference certainly would be to start fast and to be able to finish fast as well. And, basically, to have a successful season for the entire season – and I'm hopeful that we can do that this coming year.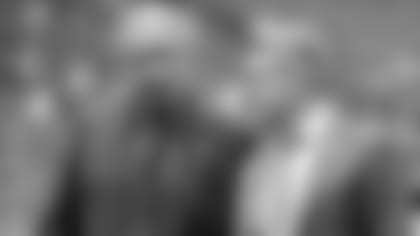 Q: You had said that you're not too concerned with the Falcons' ability to go after free agents with the salary cap. All things considered, do you think the Falcons can be just as active as they need to be in free agency?
AB: I think exactly what you said are the key words, really – as they need to be. We have certain holes, not a long list. But we do have certain holes and we'll see what players are available. There are a number of things that Thomas, Rich and Nick Polk are working on that I think can create some cap space hopefully for us and give us the freedom to make the decisions we have to make. They've assured our fans and me that the cap issue is not going to keep us from being the best we can be next year.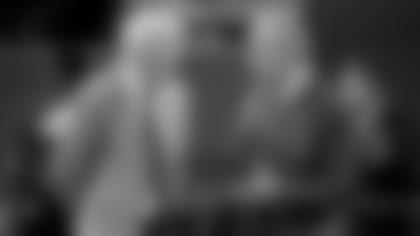 Q: Rich McKay was talking to season ticket members recently and said that the key to making sure Mercedes-Benz Stadium stays full – you know, people showing up to games and sitting in their seats – is to put a winning product on the field. He said he doesn't like when people get on the fans for not showing up. Do you echo that same sentiment?
AB: Well I think there are a number of reasons why fans come out. I think having a product on the field that's competitive is certainly a key part of that. Beyond that, creating the right kind of fan experience so that win or loss – hopefully a lot more wins than losses – it's a great fan experience. I had several people stop me today who are not from Atlanta and say, by the way what you've done there is remarkable and keep it up. We were voted No. 1 in the NFL for fan experience and that means a lot, too. It doesn't take the place of winning, but creating the right kind of environment, the right kind of service environment, to demonstrate to our fans that we care deeply about them, personally about them and appreciate their energy and their enthusiasm and their commitment – not only financially, but their time commitment and their emotional commitment to the club is very, very important. But winning is a big part of it and we want to have a competitive team. And we need to be more competitive this coming year than we were these past two years for sure.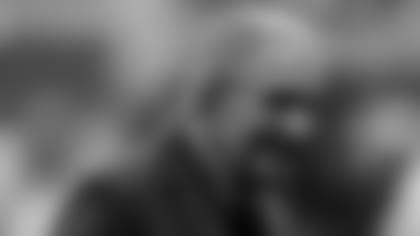 Q: Speaking of the fans and speaking of excitement, I've gotten a ton of emails from fans who are just beyond excited about the first major uniform redesign in 17 years. Without giving anything away, what was your first reaction when you first saw the new duds and how excited are you to unveil a new look?
AB: Well it's the first time in 17 years that we're changing them which is remarkable to me because I didn't realize it was quite that long. But I did remember when we first bought the team a couple years later that we did change it – and that was a great change at that time. I think that this look that fans will feel, experience and see and hopefully wear is one that's more in keeping with a contemporary look and feel that our fans are looking for – a little more flair. I think the level combinations is one of the things that struck me about the tops and bottoms, the way they could be combined and put together provides a lot of options. The players had a lot of input in the uniforms; you know, they have to wear them. Beyond that, they're young and they're hip and they get it. They want to wear something that looks good on them. I think the uniforms will good on them and even better on our fans.
Q: I'll take that as you like the uniforms a lot then?